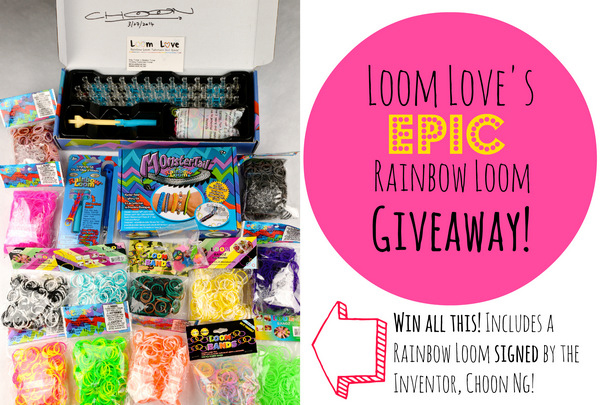 Loom Love is excited to announce that we are having a Rainbow Loom giveaway. And this isn't just any old giveaway. This one is EPIC!! How epic, you ask?
One lucky winner will receive:
a Rainbow Loom kit signed by the inventor, Choon Ng
a MonsterTail loom
a Rainbow Loom metal upgrade hook
a package of 8 charms
5,000 loom bands including solids, glitter, tie dye,  glow-in-the-dark, camo, and flesh colored bands.
To enter, use the rafflecopter widget in this blog post. The widget gives you four ways to enter:
You can like us on Facebook. The widget has a button to confirm if you are already a fan.
If you do not have a Facebook or Youtube account, you can enter by commenting on this blog post (we'd love to know which LoomLove.com original design is your fave!) After you leave the comment, make sure you confirm it by selecting the blog comment option in the rafflecopter widget below. That is how we are tracking the entries. Please note, comments are moderated so it may take up to 24 hours for your comment to appear.
 You can subscribe to our Youtube channel. Don't forget to confirm that you have subscribed in the rafflecopter widget.
You will also be able to share a special rafflecopter link with up to 10 friends which will give you up to 10 more entries!!!
Here is the rafflecopter widget:
The giveaway runs until Monday, August 4, 2014 at 12:00PM EDT.
The giveaway is open to the following countries:
USA, Canada, UK, Australia, France, Philippines, New Zealand, Netherlands, Ireland, Belgium.
If the winner is from Canada you will have to answer the following skill testing question: 2+2-1 = ______
You must be 18 years of age or older or have the permission of a parent or guardian to enter your name (First name and initial is fine) and email address into rafflecopter.  We need a real email address to contact you to get a shipping address if you win!
Please make sure you have permission to enter. Rafflecopter and LoomLove.com will have your name, email address and IP address as part of the tracking process to ensure the winner is selected at random and so that LoomLove.com can contact you if you win. The Rafflecopter privacy statement can be read in full here. (https://www.rafflecopter.com/rafl/privacy/) The Loomlove.com privacy policy is here.( http://loomlove.com/privacy/)
Good luck everyone!