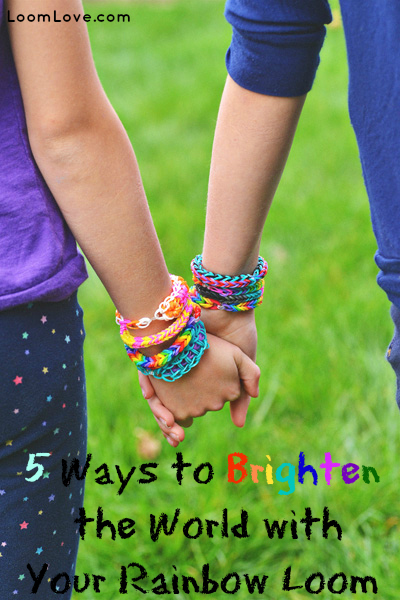 If you are reading this, there's a good chance that you're just as crazed over making Rainbow Loom bracelets as we are. There's also a good chance that you are amassing quite a collection. If so, why not use your awesome bracelet making powers to make the world a little brighter?
Here are five ways that you can give back:
1. Donate bracelets to Looms for Love,  a brand new charity that gives bracelets (along with a handwritten note) to seniors in nursing homes, as well as hospitalized kids. You could even start your own chapter. Read all about it here.
2. Sell your bracelets and give the money to a local charity. These kids raised money for a shelter that helps homeless dogs. These children are selling bracelets to raise money to build a clean water well in Sierra Leone. This little girl has teamed up with her church and is raising money for the homeless. Pick a charity that means something to you and loom on!
3. Got a fabulous uncle, or adorable aunt? Is your grandma the best? What about a  special cousin that lives far away? Make their day by sending them one of your bracelets in the mail along with a handwritten note.
4. Buy a Rainbow Loom for someone who can't afford one. (Or get your parents to!) There are lots of charities out there in search of toys at Christmas time!
5. Share your loom skills with others. If you've mastered a new pattern, pass on your knowledge to others. And be patient! Not everyone catches on at the same rate.
Do you know of anyone who has used Rainbow Loom to give back?