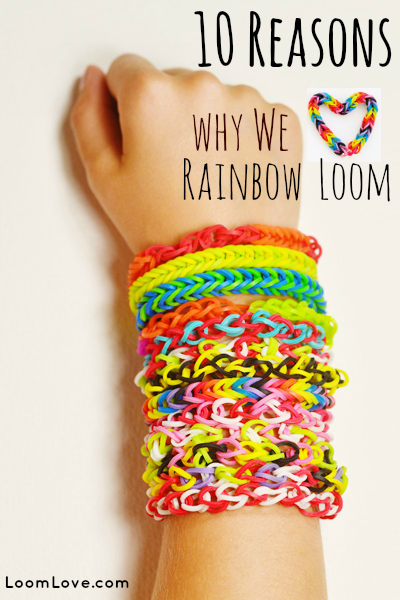 Hi there. I'm Christina, Emily and Maddie's mom. To be honest, I can't remember the last time I got so excited about one of my kid's toys. Rainbow Loom is fabulous for so many reasons. Here are my top ten reasons why I think Rainbow Loom is an awesome toy:
1. It inspires creativity. Coming up with colour combinations and patterns is a fun, creative process. There is an endless variety of color combinations and bracelet patterns to discover.
2. It inspires learning. I don't know about you, but even as an adult I find it a challenge to follow instructions:) This teaches kids how to follow step by step instructions – and it gives them a reward for paying close attention to the details; a cool bracelet to show off!
3. It inspires sharing. Not only do kids share their fab creations, they share information with each other on how to create various bracelet patterns. Anything that motivates kids to help each other gets a big ol' thumbs up from me!

4. It's challenging. One of the best things about Rainbow Loom is that once you've mastered one pattern, there's always a new and more challenging pattern to tackle.  This keeps things interesting!
5. It builds confidence. My kids do the happy dance when they've just mastered a new bracelet pattern.
6 It rewards perseverance. It's amazing how fiercely determined my kids can be when it comes to mastering new patterns. When it doesn't work out the first time, they keep going – knowing the reward of a new bracelet is waiting for them at the end.
7. It's a quiet activity. When my kids are creating bracelets, I don't hear a peep – except for the odd gasp when something goes wrong;)
8. It doesn't require hydro.  I admit that I am nostalgic about toys that don't require a power source – especially ones that capture the imagination as much as this one has.

9. It's inexpensive. Compared to iPods and other techno gadgets – not to mention  American Girl etc., Rainbow Loom isn't hard on the pocket book.
10. The bracelets are eye candy. Just look at the photos!